Learn Why MetaDerm May Be Right For Your Patients

Unlike prescription medications and over-the-counter options, MetaDerm is a convenient subscription service that provides your patients with a unique combination of products, backed by clinical evidence and a professional developed coaching and support program to help them achieve healthy, flare-free skin.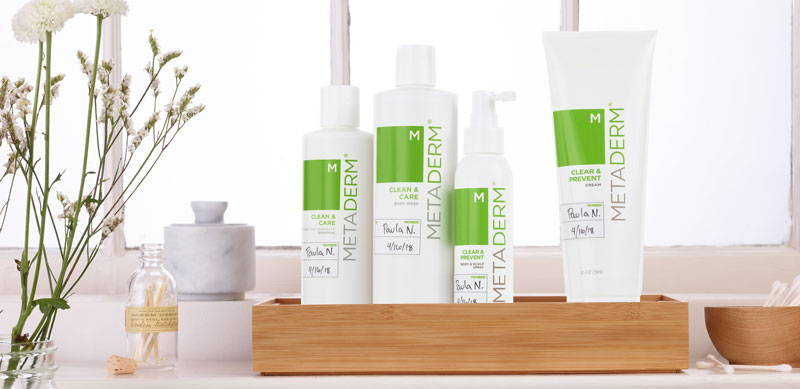 EFFECTIVE
Clinically-proven products with Rx-level results

SUPPORTIVE
Professionally developed coaching and support program

SAFE
Freedom from steroids, parabens and dyes

SIMPLE
Convenient direct-to-door delivery
MetaDerm Care Advisors support patients with frequent reminders, encouragement and tips/resources to help them shift from reactive symptom treatment to proactive condition management.
Why MetaDerm's Coaching Works
• Professionally-developed program utilizing validated habit adoption techniques
• Text and email communications easily fit user's lifestyle
• Tracking and feedback shows users their progress over time
• Encourages frequent product use leading to better results
Why MetaDerm Treatment Works
MetaDerm is designed to help patients treat chronic skin conditions like psoriasis and eczema. Each personalized kit contains a set of products specifically chosen for the patient based on their needs. Product offerings include MetaDerm Clear & Prevent Skin Cream, MetaDerm Clear & Prevent Scalp Spray, MetaDerm Clean & Care Body Wash and MetaDerm Clean & Care Shampoo. All products contain ingredients carefully chosen to gently cleanse, moisturize and treat the condition without irritation.
MetaDerm Clear & Prevent Skin Cream and Scalp Spray contain a unique natural botanical extract blend derived from plants with known anti-inflammatory properties.
MetaDerm works with the body to help reduce inflammation and maintain a normal balance in the skin.
MetaDerm products do not contain steroids, parabens or dyes and do not leave a greasy or oily residue post-application, making it easy for Patients to use daily.   Patients can also use MetaDerm regularly without the tradeoffs that often come with prescription treatments like topical steroids or more advanced biologics.  
MetaDerm can be used alone or in combination with other treatments for psoriasis and eczema.
In a 12-week randomized, double-blind, comparator-based study, 180 male and female subjects with mild to moderate active plaque psoriasis using MetaDerm Clear & Prevent Cream showed more significant skin health improvements versus a commonly used Rx (Calcipotriol 0.005% w/v Cream).
Physicians Global Assessment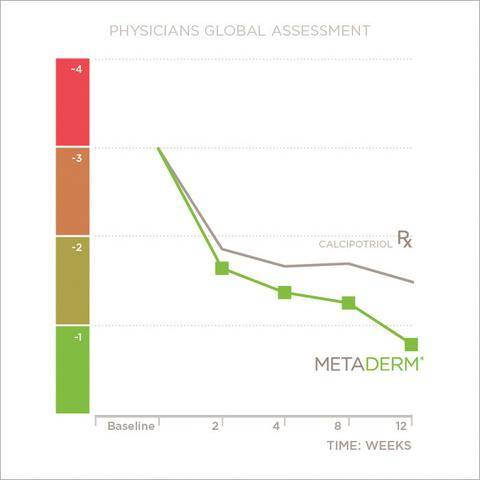 Eighty Four Percent (84%) of MetaDerm patients achieved Clear or Almost Clear skin at 12 weeks. PGA for MetaDerm patients decreased by 72% at 12 weeks vs. baseline. (Data on file)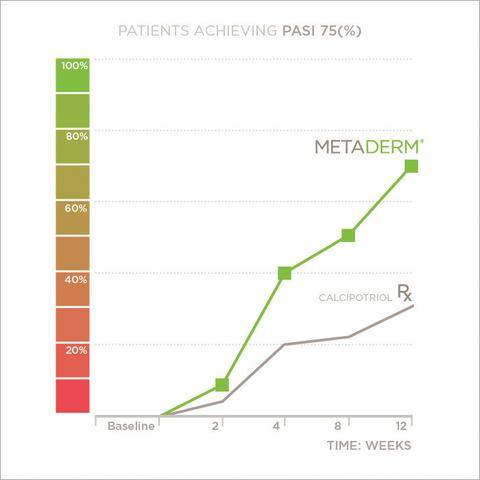 MetaDerm patients were > 2X more likely to achieve PASI 75 at 12 weeks vs. patients on Calcipotriol. (Data on file)
Treatment with MetaDerm Clear & Prevent Skin Cream effectively reduced Erythema, Induration and Desquamation vs. Baseline.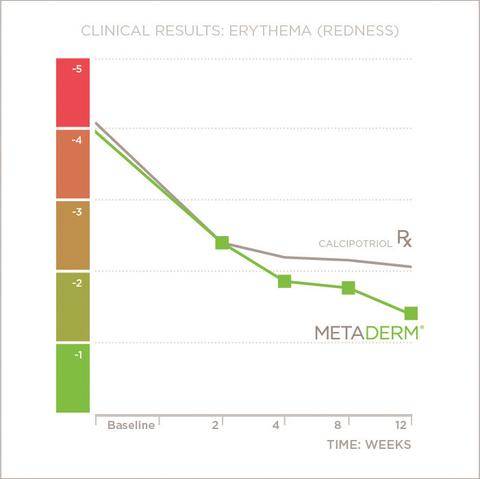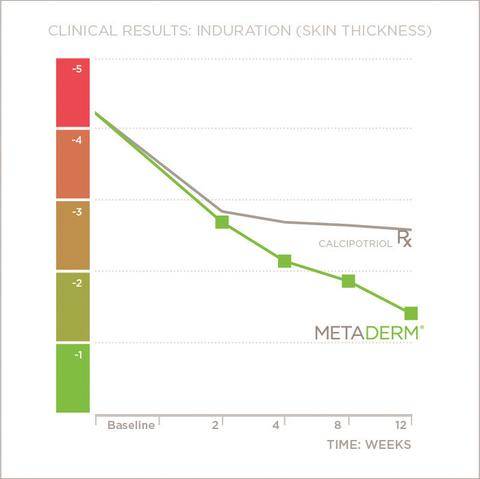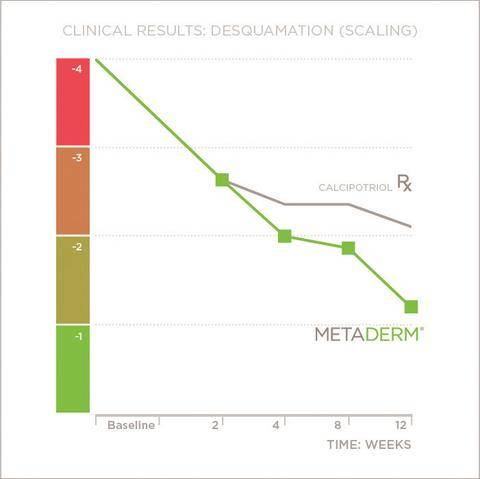 Independently Reviewed, Recognized and Accepted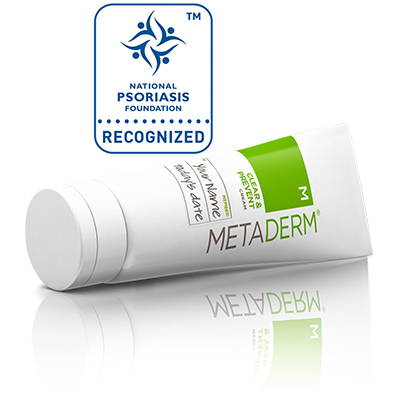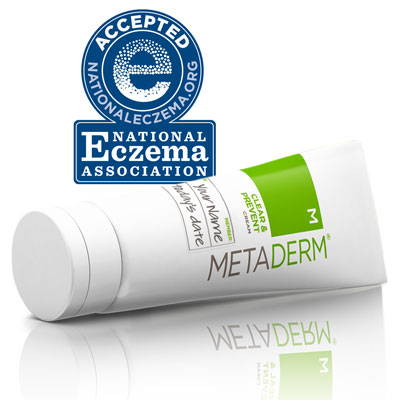 MetaDerm products do not contain steroids, parabens or dyes.

MetaDerm Clear & Prevent Skin Cream has been evaluated in human safety studies among subjects with healthy skin as well as chronically inflamed skin.

High-Quality Manufacturing
All MetaDerm products are manufactured in FDA-registered facilities and in accordance with cGMP guidelines to ensure patients always receive product that meets high quality and efficacy standards you expect.
Product Ingredient Details
MetaDerm Clear & Prevent Skin Cream
Active Ingredients: Phytolacca decandra, Conium maculatum, Rhus toxicodendron, Berberis vulgaris, Sanguinaria canadensis, Matricaria chamomilla, Achillea millefolium, Aesculus hippocastanum
Inactive Ingredients: Purified Water, Glycerin, Stearic Acid, Cetyl Alcohol, Carthamus tinctorius (Safflower) Seed Oil, Cocos nucifera (Cocunut) Oil, Dimethicone, Glyceryl Stearate, Sodium PCA, Niacinamide, Phenoxyethanol, Caprylyl Glycol, Petrolatum, Triethanolamine, Carbomer, Tocopheryl Acetate, Hamamelis virginiana, Hydrastis canadensis, Avena sativa, Populus alba, Populus tremuloides, Cochlearia officinalis, Ervum lens, Scrophularia nodosa, Veronica officinalis, Althaea officinalis, Sambucus nigra, Malva sylvestris, Nasturtium officinale, Smilax medica, Tussilago farfara, Pimpinella saxifraga, Vincetoxicum officinale
MetaDerm Clear & Prevent Scalp Spray
Active Ingredients: Phytolacca decandra, Conium maculatum, Rhus toxicodendron, Berberis vulgaris, Sanguinaria canadensis, Matricaria chamomilla, Achillea millefolium, Aesculus hippocastanum
 
Inactive Ingredients: Purified Water, Glycerin, Niacinamide, Phenoxyethanol, 1,2-Hexanediol, Caprylyl Glycol, Acrylates/C10-30 Alkyl Acrylate Crosspolymer, Aminomethyl Propanol, Sodium Citrate, Polysorbate-20, Citric Acid, Hamamelis virginiana, Hydrastis canadensis, Avena sativa, Populus alba, Populus tremuloides, Cochlearia officinalis, Ervum lens, Scrophularia nodosa, Veronica officinalis, Althaea officinalis, Sambucus nigra, Malva sylvestris, Nasturtium officinale, Smilax medica, Tussilago farfara, Pimpinella saxifraga, Vincetoxicum officinale
MetaDerm Clean & Care Body Wash
Ingredients: Water/Eau, Sodium Trideceth Sulfate, Petrolatum, Sodium Chloride, Cocamidopropyl Betaine, Trideceth-3, Guar Hydroxypropyltrimonium Chloride, Sodium Benzoate, Xanthan Gum, Glyceryl Oleate, Disodium Edta, Citric Acid, Fragrance/Parfum, Sodium Hydroxide, Acrylates/C10-30 Alkyl Acrylate Crosspolymer, Methylchloroisothiazolinone, Methylisothiazolinone
MetaDerm Clean & Clear Shampoo
Active Ingredient: Pyrithione Zinc 1%
 
Inactive Ingredients: Water, Sodium Laureth Sulfate, Sodium Lauryl Sulfate, Dimethicone, Cocamide MEA, Zinc Carbonate, Glycol Distearate, Sodium Xylenesulfonate, Fragrance, Cetyl Alcohol, Guar Hydroxypropyltrimonium Chloride, Magnesium Sulfate, Sodium Chloride, Sodium Benzoate, Magnesium Carbonate Hydroxide, Benzyl Alcohol, Prunus Amygdalus Dulcis (Sweet Almond) Oil, Methylchloroisothiazolinone, Methylisothiazolinone