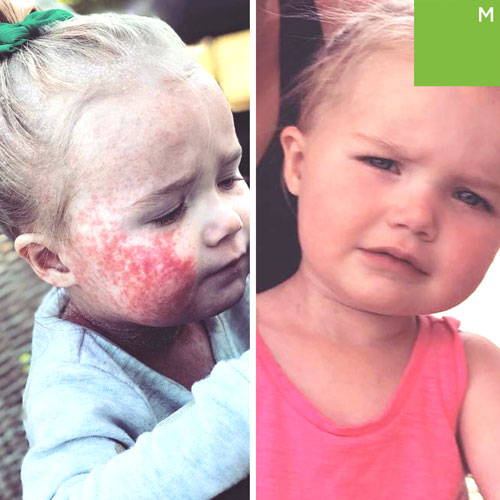 Finding Psoriasis Relief Beyond Meds: One Mom's Story

Ashley Nagy first encountered psoriasis when her daughter Charlie was just one week old. Seven days after being born, Charlie started showing signs of the skin condition. Out of all of the scenarios Ashley had imagined when expecting her second child, this was not in the cards.
"I daydreamed about having bows, glitter, sparkles, and all of the girly things, and I finally got to play dress up with my baby," she said. "And I remember when my daughter was born, she was the definition of perfect."
So when she started developing a rash under her neck, Ashley immediately thought she wasn't keeping the area clean or dry enough. But when it started spreading, she and her husband couldn't figure out an explanation.
Over the months that followed, Ashley consulted with her pediatrician and watched as the plaques on her daughter's skin continued to grow and spread – and her daughter became more and more uncomfortable. At four months old, Charlie was finally diagnosed with psoriasis by a pediatric dermatologist.
"Within five seconds of seeing her, she goes 'oh yeah, this is psoriasis. Here are some topical steroids. She'll have it for the rest of her life, we'll see you in a few months," Ashley said.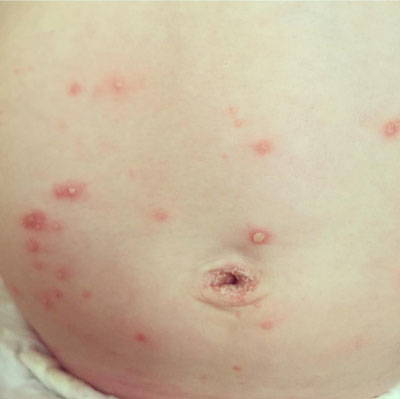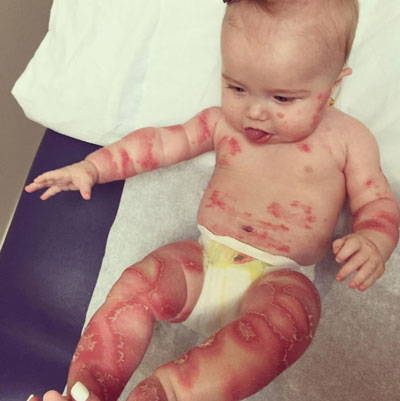 Ashley and her husband were stunned, and didn't know where to go from this diagnosis. As frantic parents, they started searching the internet for answers. When Charlie's conditioned worsened, she was admitted to the Phoenix Children's Hospital.
"Head to toe, there was no body part spared," she said. "As a mom, it's your job to protect, nurture, and to care for your children, and I just felt like I was failing her."
Ashley channeled her frustration into finding a solution for Charlie's pain. Nearing Charlie's second birthday, Ashley decided to focus on her daughter's diet.
"Call us crazy but we figured we wanted to be all-in with diet," Ashley said.
With the support of the online psoriasis community, Ashley made tweaks to Charlie's diet to clean her gut with the hopes of reducing flares. At the same time, she started using MetaDerm's products to give her daughter some natural relief – free of steroids.
"We are so in love with MetaDerm products!" she said. "We use the wash and their amazing spray. The spray is great because we don't have to rub it in, with a wiggly toddler it's the bee's knees."  
Currently, Charlie is a happy toddler who's living flare free.
"I'm pleased to report I have nothing to report," Ashley said.
The diet is working, she says, which she has paired with MetaDerm, vitamin E ointment, and a gentle baby shampoo. The diet is gluten-, dairy-, nightshade-, and sugar-free – and while they've detoxed religiously for a few months, they're now at a point where they can counterbalance any "junk" with the healthy foods her body needs.
And as for MetaDerm.
"[Metaderm has] given her so much relief with [their] products that she begs for the spray on her feet now," Ashley said. "We know that if we skimp on her diet a little that the products will help soothe her skin."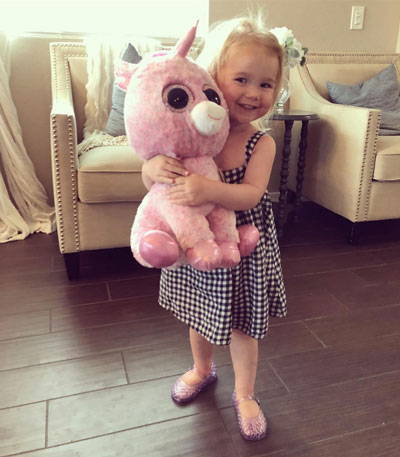 To follow Charlie's journey, check out @psoriasissunshine on Instagram. If you're interested in starting your own MetaDerm journey, let us help you on the path to flare-free skin.