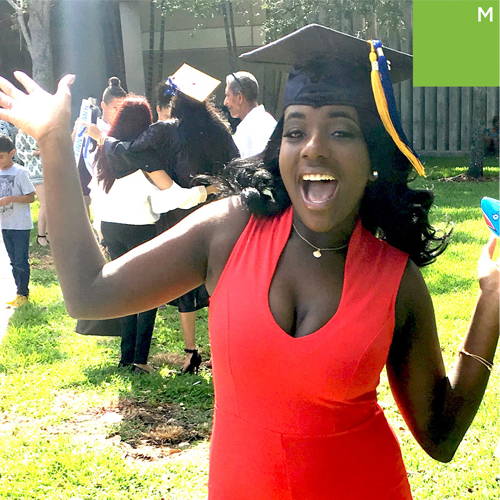 Taking Treatment One Day at a Time:
Jenn Finds Relief, Support, and Confidence with MetaDerm


If there's one word to describe Jenn, it's confident. She has a smile that lights up the room – or even more true – the stage.
Jenn is a theater student at Miami Dade College; she's recently graduated with her Associate's Degree and is now onto the next challenge: an opera workshop and piano lessons. These activities are impressive enough on their own, but they mean even more to Jenn as just a few years ago, she was too self-conscious to step on the stage because of her eczema.
"I've always wanted to do it, but the thing is, with my skin being bad, people were like 'oh they're not going to be sensitive to your situation,'" Jenn said. "So I was like 'okay, I'll leave that world alone.'"
Putting her interest in theater at the back of her mind, she started as a business major. When Jenn heard one of her classmates mention that he was taking acting classes, she decided her skin was a little bit better – so she gave it a try.
"I started taking classes, and from then on I loved it," she said.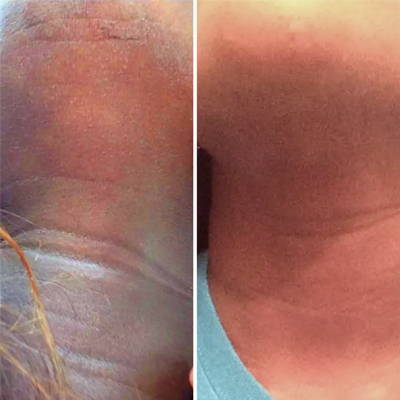 This was a big step for Jenn, who was first diagnosed with eczema when she was in third grade. She had struggled with her skin – and her confidence – for a decade.
"I remember walking from lunch and the back of my leg just itching me," she said. "I remember me scratching and it just bleeding, so I showed a friend of mine who I knew had eczema and she was like, 'don't scratch it because it only gets worse.' Little did I know that would follow me for a very long time."
She started with steroid creams, but the flares worsened when she started high school. As a freshman, she was admitted into the hospital with a staph infection – which led to more steroids and towel wrapping.
"I asked him for something stronger, a bigger jar of the [steroid cream] that they prescribe for people with eczema," Jenn remembers. "And he said 'there is no bigger jar, I can only prescribe you something stronger."
She decided to go for the stronger treatment and didn't see the changes she desperately needed. Her skin felt the same and she began to get frustrated.
"So I just stopped using the steroids and from that moment on, my life was like a living hell," she said. "Eczema started spreading all over my body, in places I had never seen it before."
Jenn learned what she was experiencing is called topical steroid withdrawal – a common reaction when a patient stops using a steroid cold turkey, without tapering usage with a plan from a healthcare professional.
Like many patients, Jenn took to the internet to find new treatment options. From searching various Instagram hashtags, she discovered MetaDerm and decided to give it a try about four years ago.
"From then on, I just kept on using it and my journey has been much easier," she said. "I feel a lot more moisturized these days."
Now, flares are a memory for Jenn – not a reality. But she still remembers what it felt like to hide because of her skin – always wearing long sleeves and jackets.
"It was really hard, like extremely hard," she said. "I spent the whole day in my room, all the time. I never really went outside and when I did go outside, it was night time and to go get food."
She spent her days researching, trying to figure out why this was happening to her. The MetaDerm team became a resource – and support system – as she suffered from topical steroid withdrawal.
"I didn't really have much support," Jenn said. "But MetaDerm, with Casey [a member of the MetaDerm team], she was really my great friend, always listening to me vent about things I was going through."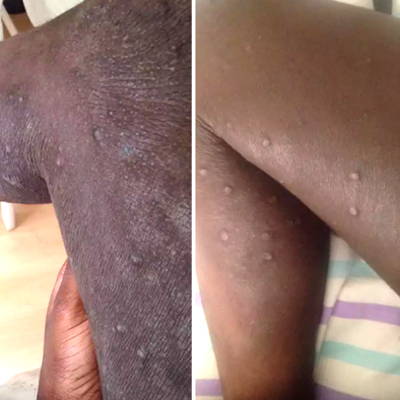 While her skin didn't clear immediately, Jenn saw progress and understood that the natural healing process takes time. She began using it twice a day – and even layers it because she says her skin just loves it.
"With MetaDerm, take it slow and be patient," she said. "You're working with your skin and you're removing the steroids, that defender, from your body, and you're introducing something new, that's natural. And that's the thing with natural, it takes time."
After about two months, her skin began to clear and she started to feel more confident.
"When I started to see results, I said 'okay, this was worth the wait," she said.
And these days, her skin doesn't flare up at all – there's no itching anymore and she's relearning how to not scratch her skin.
"Things are much better now," she said. "We've been through a journey."
The journey has changed her relationship with both her skin and her self-esteem.
"I have learned to love my skin so much more, it's ridiculous," Jenn said. "With being patient, me and my skin are best friends – and I'm always wearing short sleeves now. I mean people love their skin, but I really love my skin."