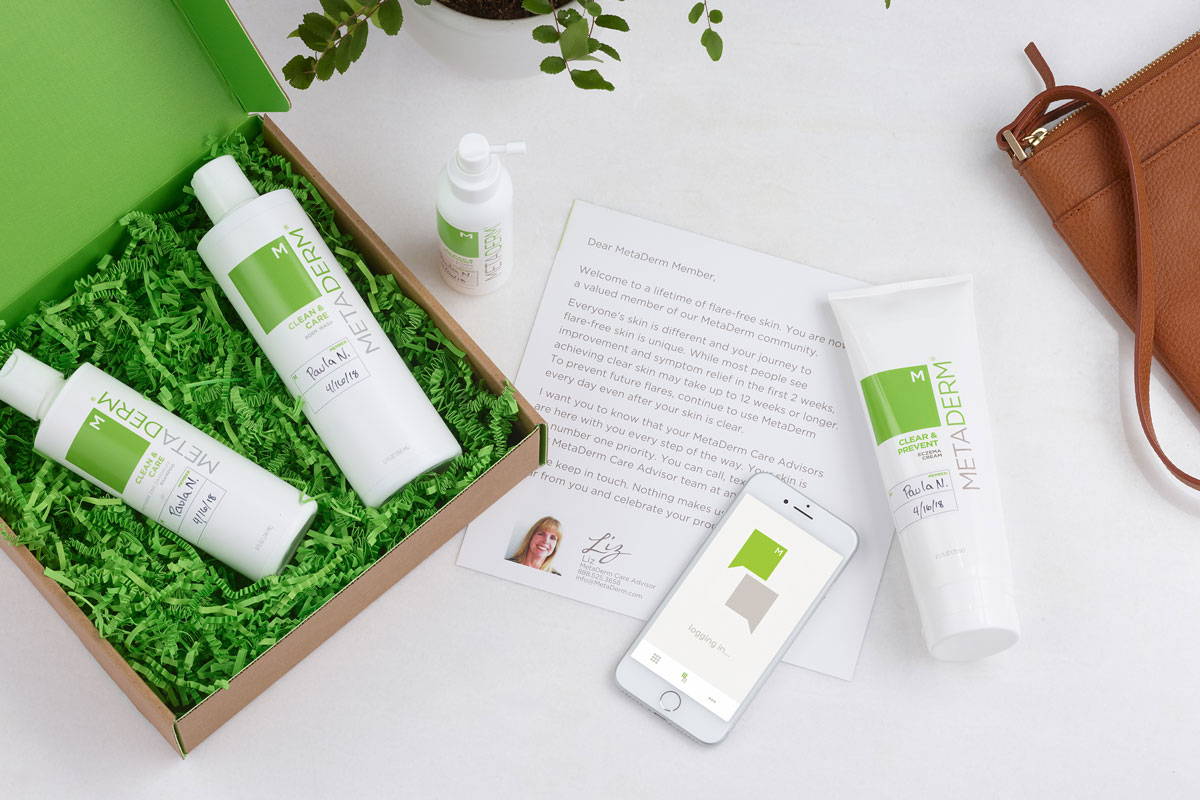 MetaDerm Psoriasis Treatment Really Works
Tired of trying psoriasis medication with little effect on your psoriasis symptoms? Don't want the trade offs that come with steroids and other prescription drug ingredients? The MetaDerm Skin Health System is our best treatment for psoriasis and works with your body to promote long-term flare-free skin health through a safe and effective blend of 25 therapeutic botanicals. And, unlike other natural remedies for psoriasis, we have the results to prove it.
MetaDerm reduces psoriasis inflammation and future flares. People living with psoriasis often experience skin inflammation every day. Our M25 blend of therapeutic botanicals helps reduce damaging hyper-inflammation and calibrates your skin's immunologic response. That way, your skin reacts more appropriately to flare triggers, like stress, changes in weather and detergent. Plus, MetaDerm is free of steroids, dyes, parabens and fragrances, so you can be confident in the care you're giving your skin.
We're not the only ones impressed by MetaDerm. The MetaDerm Heal and Prevent Cream received the National Psoriasis Foundation's Seal of Recognition for safe and effective treatment of psoriasis symptoms, such as dry, itchy, flaky skin!
Relief in the short-term, skin clearing in 12 weeks and flare prevention beyond.
At MetaDerm, we're not all talk. Our products have been clinically proven to provide noticeable symptom relief in the short term and promote less frequent and less severe flares in the long term. In pharma-grade clinical studies, MetaDerm was shown to dramatically restore skin health, and in a recent double-blind, placebo controlled clinical study, nearly 7 out of 10 patients using MetaDerm psoriasis cream twice daily achieved a 75 percent or greater improvement in skin health at 12 weeks, as measured by the PASI score.
Real users are showing real results.
MetaDerm's amazing results aren't restricted to the science lab. Real users are experiencing life-changing results every day. By consistently using MetaDerm at least twice daily, our users get the relief they need and the skin care they deserve. Plus, with MetaDerm's built-in expert support system, they get answers, information and support whenever they need it.
With safe, effective and gentle psoriasis treatment products, MetaDerm is changing the lives of people living with psoriasis everywhere.