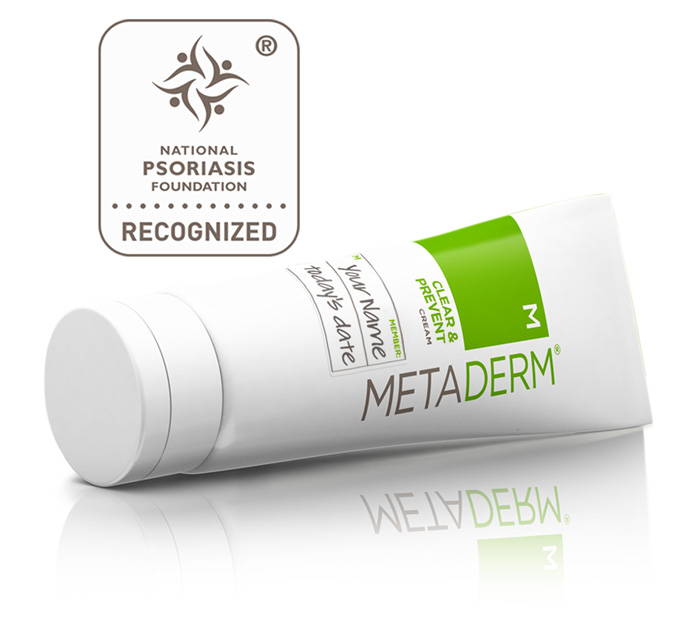 MetaDerm Earns the NPF Seal of Recognition Again
We're thrilled to share that for the second year in a row MetaDerm Heal & Prevent Cream has earned the National Psoriasis Foundation's (NPF) Seal of Recognition. The NPF is at the forefront of psoriasis care and research, and this seal highlights over-the-counter products that are proven to safely and effectively manage the symptoms of psoriasis.
Our MetaDerm Heal & Prevent Cream was independently reviewed by a panel of dermatology medical experts and people with psoriasis. It was tested to see if it helped people with psoriasis relieve their symptoms, including dry, red, itchy, flaky skin. Here's a rundown of the rigorous testing process:
A panel of five dermatology medical experts must agree unanimously that the product meets the required criteria as well as relieves the symptoms of psoriasis.
Then, our product is given to five testers who have moderate to severe psoriasis to evaluate it for reduction of dry, red, itchy or flaky plaques as well as for its ease of use.
After using the product, the testers must also agree that the product relieves the symptoms of psoriasis and is easy to use and apply.
What's So Special About MetaDerm?
MetaDerm Heal & Prevent Cream helps heal and prevent flares without side-effects or trade-offs. The steroid-free, fragrance-free, hypoallergenic formula contains active therapeutic botanicals and is safe to use every day alone or with other treatment to relieve flares and help keep them from coming back.
In the same type of clinical studies used by drug companies, MetaDerm was more effective than a prescription (calcipotriol) at getting patients to clear skin and keeping them clear. Seven out of 10 patients achieved PASI 75 using MetaDerm vs 3 out of 10 using calcipotriol.
Metaderm doesn't require a prescription and is shipped monthly to your home.
Keeping You Clear & Supporting Your Journey
Our team at MetaDerm is excited about the news from NPF, but more importantly we're thrilled to support YOU on your journey to clear skin. Everyone in the MetaDerm community has access to personalized coaching and support. You can call, text, or email us at any time for advice on your healing.